The AIVA CONSTRUCTION program automates all major construction management processes, and integrates each other, currently in many construction companies, with separate calculation calculations, project planning, and accounting processes.
The diagram below shows the functional scheme of the program.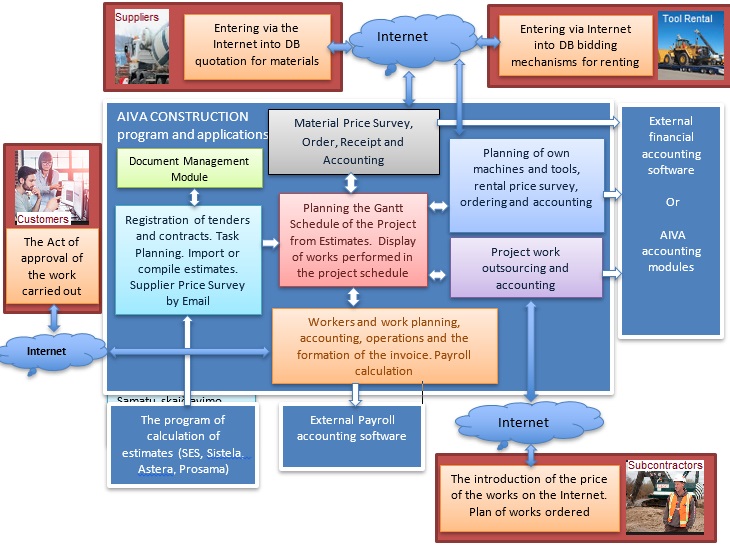 The main automated processes and their benefits for the company
Contest and Contract Registration (CRM)

By registering in the database competitions, you will be able to better plan your actions with your customers, which will help you win more competitions and get more orders.

Project planning and control

The project plan-Gantt Schedule is created from the estimates of the imported project. This module of the program will help you to make the project plan faster and better control its execution

Material and Mechanism Price Survey

From the project schedule, the program helps to shape the material for the selected week and thus saves a lot of time for the project managers. The project applications form a price survey. Suppliers introduce price quotes themselves, so you can get more suppliers and get better prices

Control and accounting of tools and mechanisms

With RFID tags, tools and work cards with the lowest cost are recorded on the tools. This helps to use tools more efficiently.

Ordering and accounting of materials and mechanisms

Workers' weekly applications for materials and mechanisms make orders for suppliers and materials from vendors for order-to-project projects. This helps to better control supply processes and significantly reduce accounting costs

Project Work Management and Accounting

You will create weekly and daily accounts from the project schedule, you can uncheck the work on the scanner or tablet. From this data, the program will form a Cumulative Project Report. This will help you to better control the project work and save time for accounting.

Worker Time Control and Table Creation from Access Control System

By selecting a project, it is possible to assign the workforce to it and form a project table. The table can be filled in and automatically and the object control systems. This system saves labor costs for table creation and helps to better control entry and working time.